Our Services
Prop Scan
Dynamic Balancing
Prop Speed
Media / Sand Blasting Cabinet
Removal & Installation of Propellers
Removal & Installation Cutlass Bearings
Shaft seal replacement
Custom Prop Pullers
Spare Propeller Storage Program
Set Screws, Cotter Pins & Shaft Nuts
Veem Interceptor Stips
Prefered service provider for Marina Pez Vela Yacht Yard
---
Prop Scan
Prop Scan is a revolutionary marine propeller inspection system that enables propellers to be re-manufactured or modified to extreme levels of accuracy. It is established technology used by the United States, Canadian and Australian navy's. Inaccuracies in camber, pitch and section shape which determine a vessels performance is undetectable to the human eye. These issues are detected through Prop Scan and provide the data necessary to minimize vibration and slippage from the propeller. It also allows us to provide the following:
Reduced fuel consumption
Increased performance
Increased speed
Eliminate propeller induced vibration
Enable synchronization of multiple engines
Ensure results are repeatable
Match sets to ISO 484 International Standards
The accuracy and form or shape of a propeller blade section as it slices through the water determines the ultimate thrust and performance of any vessel. A Premium Marine Propeller technician trained by the developer of Prop Scan in Brisbane, Australia will measure the propeller, check the accuracy against the ISO 484 International Standards and determine the section form of the propeller. We measure and compare a minimum of 4 radii and 16 local areas on each blade of the propeller to determine local pitch, section pitch, blade pitch and propeller pitch. This information allows our specialists to accurately isolate the problem areas of the propeller for repair.
A Prop Scan propeller with the correct section form and pitch will always out-perform a standard propeller.
Prop Scan uses the ISO 484/2 International Standard to inspect, report and repair propellers to guarantee repeatable results and improve performance.
ISO 484/2 Accuracy Classes
ISO 484/2 Tolerances on Pitch
Class
Description
Class
S
1
2
3
S
Very High Accuracy
a)
Local Pitch
Pitch of one portion of one blade
+ 1.5%
+ 2%
+ 3%
-
1
High Accuracy
b)
Section Pitch
Mean pitch of one radii of one blade
+ 1%
+ 1.5%
+ 2%
+ 5%
2
Medium Accuracy
c)
Blade Pitch
Mean pitch of one blade
+ 0.75%
+ 1%
+ 1.5%
+ 4%
3
Wide Tolerances
d)
Propeller Pitch
Mean pitch of all baldes
+ 0.5%
+ 0.75%
+ 1%
+ 3%
The Active Bar Graph
The Bar Graph is one of the tools used by our qualified technicians during the repair of your propeller.
Click here to explore the Prop Scan Active Bar Graph.
---
Dynamic Balancing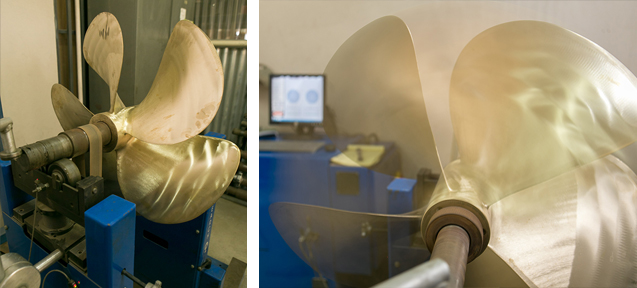 Premium Propellers offers Dynamic Balancing using a Dynamics Research-Multi-Plane Computerized System. This helps us further fine-tune your propeller to extreme accuracy that will reduce vibration, decrease propeller noise and increase bearing life.
An unbalanced propeller can be a major cause of vibration in propellers. With our 5,000 lb. capacity piece of equipment, we are able to specify where the heaviest part of the leading and trailing edge of your unbalanced propeller is. We spin the prop to a high rate of speed and determine where it is out of balance and correct the problem area to give you a much smoother ride.
---
Prop Speed
The staff at Premium Propellers are experts in applying Prop Speed to propellers and running gear. Prop Speed is an environmentally friendly product specifically designed to prevent marine growth from bonding to any metal surface below the waterline. Independent tests confirm higher top-end speeds and increased fuel efficiency with the lack of marine growth on propellers… Reduce your propeller and running gear maintenance in warm waters.
Performance
Increased vessel performance
Increased fuel efficiency
Less maintenance costs
Incredibly effective
Long service life
Zero toxic substances
Uses
Propellers
Shafts
Bow thrusters
Rudders
Trim tabs
Scoups & Screens
---
Boat Yard Services - Preferred Service Provider for Marina Pez Vela
Propeller removal & installation
Shaft removal & installation
Dye penetrant crack testing
Engine Alignments
Drip seal replacement
Cutless and through-hull bearing removal & installation
Rudder repair & rudder bearing removal & installation
Prop Speed running gear
Lap propellers
Davit repair
Bow/stern thruster prop removal- clean and apply marine growth inhibitor
Custom Fabrication/ Full service machine shop
Re-Chroming
Spare Propeller & Shaft Storage Program
Please contact us for pricing.
---
Common Propeller Issues
If you are experiencing any of the problems listed below please contact Premium Marine Propellers to get them resolved!
Propeller Induced Vibration
Propeller induced vibration can be caused by inaccuracies in pitch, camber and section shape. Prop Scan allows us to see and remove these inaccuracies. This results in a smoother, more efficient and often faster propeller.
Tip Erosion
Abrasives present in the surroundings often cause tip erosion. Tip erosion reduces the overall diameter and performance of your propeller.
Propeller Cavitation
Propeller cavitation causes vibration, noise and serious damage to your propeller. Can it be avoided? Cavitation problems must be split into two categories.
Propeller induced cavitation.
Vessel induced cavitation i.e. cavitation caused by appendages, hull shape and application.
If the cavitation is propeller induced then we can measure your propeller using the Prop Scan inspection system and show you the cause of it. What do we need? We need your propeller and your vessel performance form to complete your propeller assessment.
Singing Propeller
Some propellers produce a high pitched noise at certain points between idle speed and full RPM. At the best of times this can be annoying, if this point lies spot in the middle of your cruising RPM it will be intolerable.
Propeller induced engine overload
If you are the proud owner of a beautiful yacht but you are a little embarrassed about the black smoke that is emerging from its transom, then it's time to do something about it. Overloading your engine will vastly reduce the overall life of this engine and the black smoke can seriously affect your boating pleasure.
Propeller not loading the engine
When an engine revs higher than its recommended maximum RPM, it does not develop its maximum horsepower. In other words you are not using your engine at its utmost capabilities. Most of the time this means there is additional speed to be gained.
Propellers not synchronized
Many twin screw vessels have badly synchronized propellers, in other words the port and starboard engine are not loaded equally and operate at different RPM's. This is caused by pitch, camber and section shape differences between the two propellers. Can it be resolved? You can bring in your propellers and we will show you what the difference is between the port and the starboard propeller
Reversing problems
Reversing qualities are influenced by the position of your propeller and the section shape on the suction side of your propeller.
Excessive Fuel Consumption
Does your boat consume more fuel than the recommended amount? The reason for greater fuel consumption is having a low classed propeller. On average, an ISO Class I propeller uses between 5-10% less fuel than a Class III propeller!